The Work of Living Labour: Finissage
20 July, 18:00 - 21:00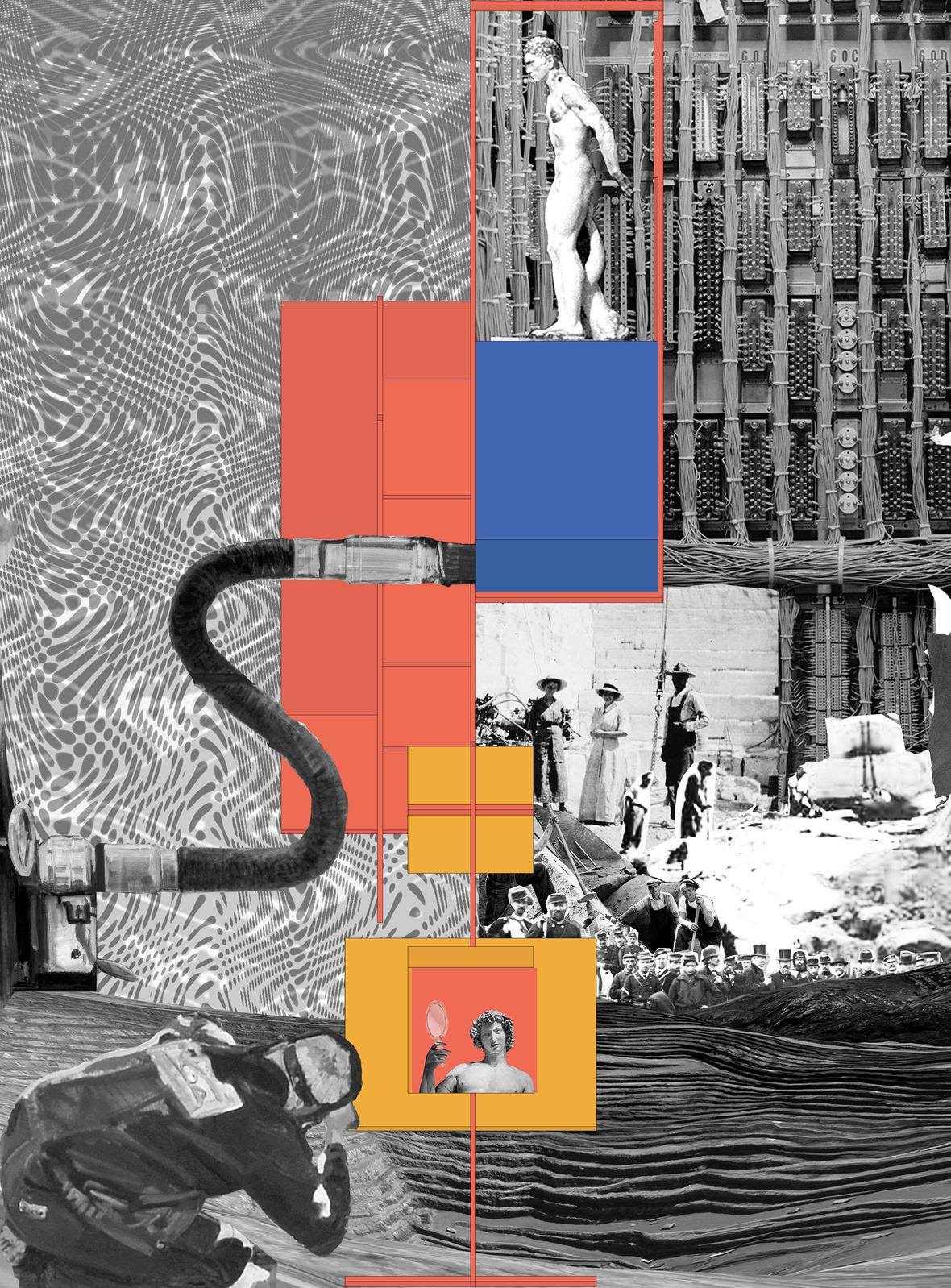 Image: reWork, The Work of Living Labour.
20 July at 18.00 - 21.00: Presentation of the exhibition and its outcome by reWork (18.30) with drinks
SixtyEight Art Institute welcomes you to the closing of our summer exhibition The Work of Living Labour by the strategic design office reWork. This performative installation and knowledge-generating project has investigated the changes to the concept and execution of work through a series of events and thematic research, resulting in an imagined visual response to the spatial implications of a post-work scenario.
The series of images relates to the thematic divisions of the exhibition: Space, Object, Network. Their task is to problematise the current and future activities of work which comes into evidence through spatial definitions and contextual elements. By juxtaposing a repertoire of new productive activities and their spatial configurations, the images define a new resource for social, cultural and political projects of transvaluation. Their presence shows the intention to repurpose the value of work activities in such a way that the future of work equilibrates the moral values of everyday actions.
Gothersgade 167, Kbh K Special opening hours: Monday - Friday 10.00 - 17.00 Saturdays 13.00 - 17.00
The Work of Living Labour is a process-oriented and performative exhibition that uses a re-conceptualization of the concept of living labour as a point of departure to broadened reflections on the evolving status of our production systems. Including their spatial expressions; socio-political responses; and/or their aesthetic/technological implementations associated with them. Which for a lack of a better word they go on to define–but also form–the terms of labour. With this in mind, can new scenarios be imagined to actively reshape new ways of working? Not only to produce the material and immaterial world we live in? but also to what kind of relations and qualities we want to see emerging in the near-future for the role of work?
Work defines the modern world in a more encompassing manner than any other activity. It does not include every productive activity, but rather the ones that are socially recognised as producers of value. Moreover, the organisation of everyday life is orchestrated by the structural system of work and despite the decreasing presence of the factory as a symbol for sites of production, its logic has entered and dominated every single aspect of life. Where the subjectivity of every human being has also intertwined with the 'productive' as labour, and as a result, the individual as subject has become productive as much as the product itself.
Work, at the same time, is deeply challenged by the increase of automation, climate change, and many other factors that are inevitably forcing governments, business, unions and individuals to question how work and productivity will be performed in the future. To challenge the current organisation of work requires a confrontation not only with the political influence of work but also in its moralisation. Work does not simply exist out of economic necessity but is widely instantiated by individual moral practice and as a collective obligation. For this reason, work pervades everyone's life but as an activity it is mostly left unquestioned. Leaving new openings to ideas such as non-productive labour, and as such, what is it?
Here, the challenges faced by our mode of production bring into question the very essence of capitalist production, which in short we understand as living labour. Living labour can be defined as the potentiality of production, in its broadest form, by each human being. As noted by Kathi Weeks in "The problem with work", living labour can provide a critical standpoint from which the alienating and exploitative conditions of modern work can be critically interrogated, and its potentials can inform speculations about the transformation of these conditions. Giving us ideas for how to think through labour, where the concept of living labour could be seen as a framework for speculation about alternatives to our current mode of production; especially while creating new narratives that can confront the present organisation of work as we know it and the discourses that support it.