Talks, Lectures, and Conversations
Special tour and viewing of artwork by Arendse Krabbe
at Folketinget [The Danish Parliment building]
27 November 2019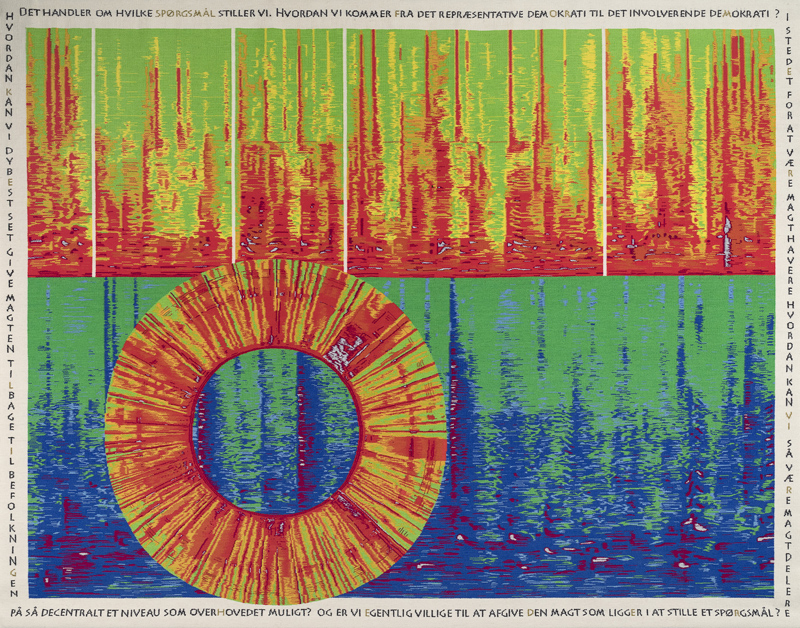 Image: Arendse Krabbe, SPØRGSMÅL FORMER VIRKELIGHEDER - en vævning af lyden i rum 2-015 den 18.05.2017.
In connection with and as part of the extended program for the exhibition 'Learning by Doing: A Politics of Practice', SixtyEight Art Institute invited a small group to an artist-guided viewing of Arendse Krabbe's artwork commission for the meeting room of Alternativet [Alternative Party], located in Folketinget [the Danish Parliament] in Christiansborg palace.
This special commission by the Folketingets Kunstudvalg [The Parliament's Art Committee] and Alternativet answers the latter's wish for an artwork to preside over their meeting room at Christiansborg, which is an established tradition for all parties in Folketinget at Christiansborg. According to the artist, '[Alternativet] were interested in an art piece that was process based, one including them in the process, and that the artwork should have a physical presence in the meeting room after the process ended'. In addition to insisting that they wanted the art piece to be made by a female artist and one with a political art practice.
The result came out of a period of three weeks, where the artist (through a series of exchanges with Alterantivet) organized a meeting to be recorded on the key issue of 'ny politisk kultur' / 'new political culture' as part of her idea to 'weave a political discussion' and which took place on 18 May, 2017. The sound file was translated into a spectrogram to produce an image and became the material that Arendse Krabbe used to weave a tapestry in collaboration with the tapestry weaver Mona Lise Martinussen. The weaving started in June 2017 and the artwork was inaugurated in the Party meeting room in April 2019.
The title of the tapestry is:
'QUESTIONS SHAPE REALITIES - a tapestry of sound in space 2-015 on 18.05.2017'
'SPØRGSMÅL FORMER VIRKELIGHEDER - en vævning af lyden i rum 2-015 den 18.05.2017'
The work consists of:
the tapestry 2,6 m x 2 m
2 sketches 1 m x 1 m
1 ball with bells 6 cm in diameter
---
During the exhibition The Work of Living Labour, reWork invited a number of guests, including KANA, to hold a series of events.
The Work of Living Labour: KANA Events
Event series: 11 - 13 July 2019
In response to the themes curated by reWork, Japan-based architecture collective, KANA, has organised an event series titled The Work of Living Transformation — introducing an alternative way of thinking and working in the field of architecture.
The term 'Living Transformation' refers to KANA's working method of finding, inhabiting and activating disused architecture/elements while redesigning and transforming them — including both the social and practical aspects of such a process. The team is currently based in SANO, Japan, a city struggling to survive under the pressures of capitalism, globalism and demographic change. The increasing number of akiya (abandoned houses) in the city have become a resource for their work.
'We understand Sano with its many abandoned objects as a landscape, a forest. To save it means to take out every second tree for the other trees to grow better.' KANA
Event series:
11 July at 18.00-21.00: Presentation by KANA (18.00) and drinks
12 July at 18.00-21.00: Talk between reWork, KANA and municipality representative Akiyama-San.
13 July at 10.00-12.00: Japanese breakfast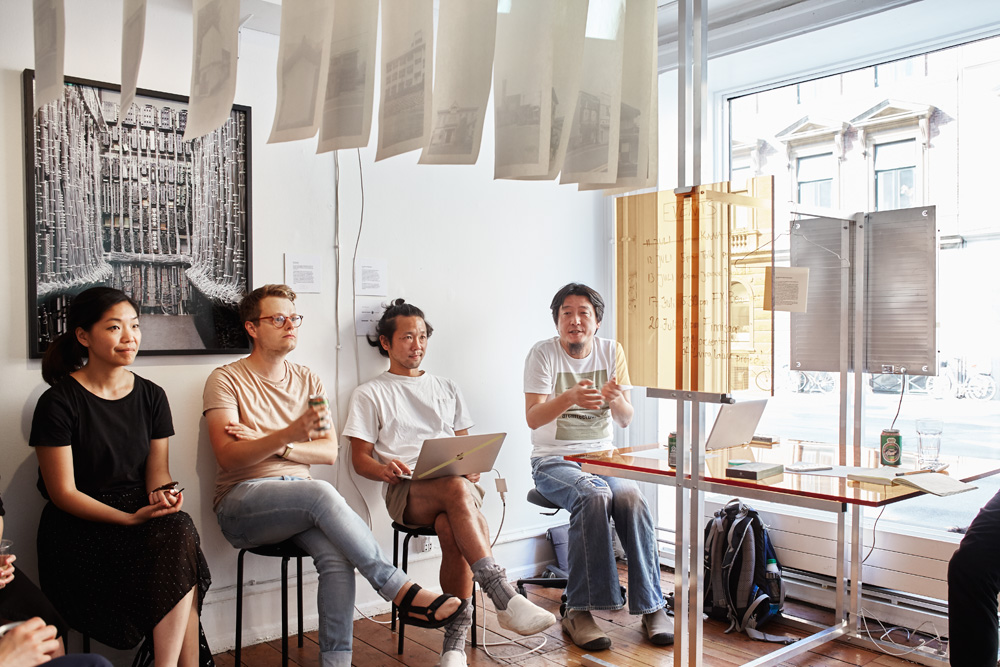 Presentation by Sano municipality representative Akiyama-San.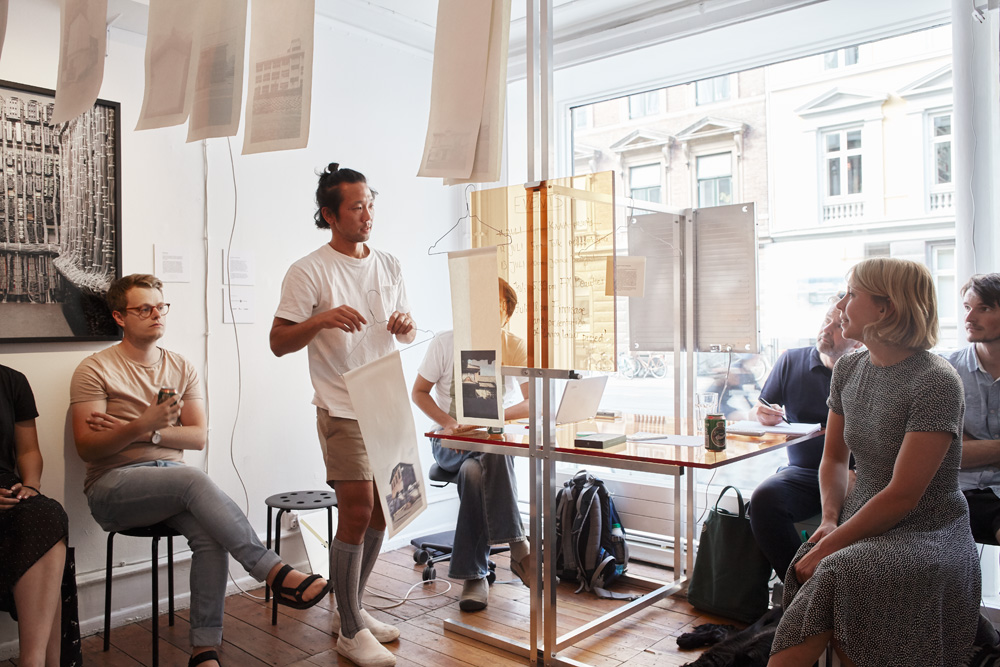 Presentation by Kato of the KANA collective.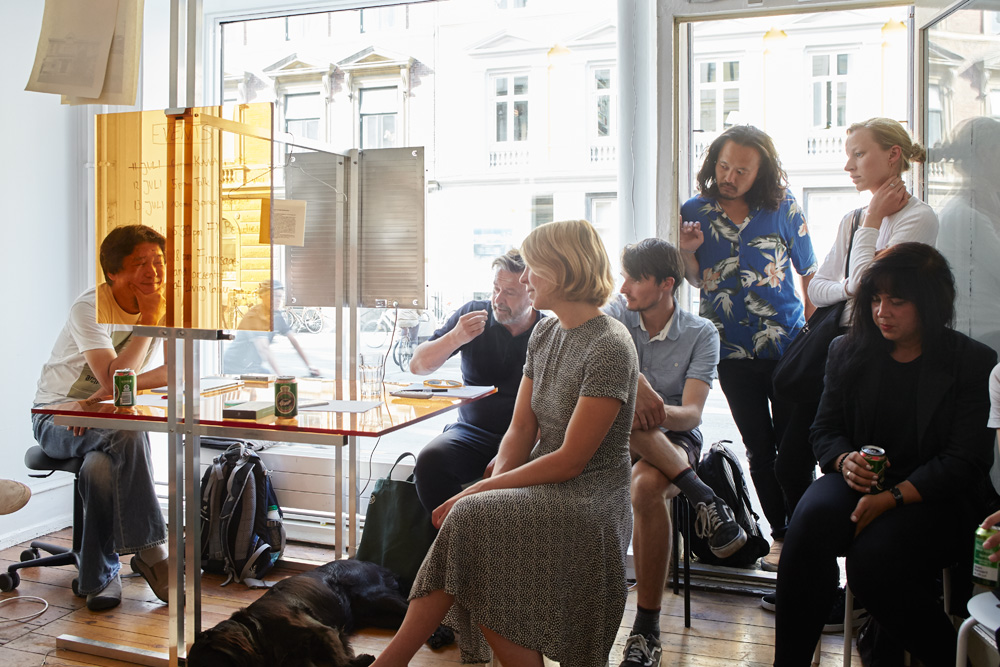 Comments from the audience.
---
On the conversation between objects, occurring without our cognition
Maša Tomšič
13 April 2019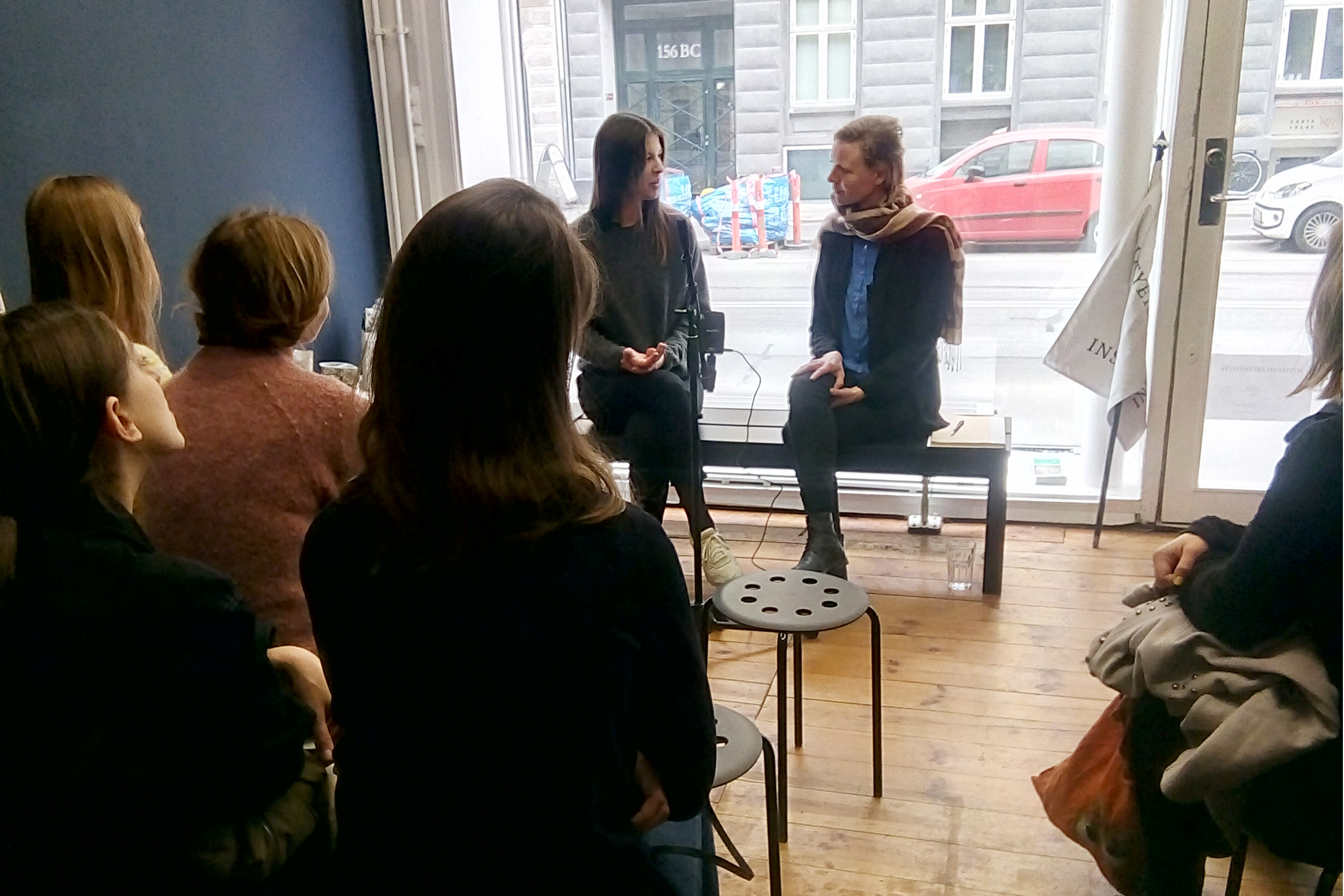 Maša Tomšič and Marianne Skaarup Jakobsen in conversation
SixtyEight Art Institute welcomed the Lisbon-based academic and curatorial researcher Maša Tomšič to our speakers program. The talk evolved out of a week-long curatorial residency at SixtyEight, where she conducted curatorial/artistic research workshops in collaboration with Marianne Skaarup Jakobsen (whose exhibition, Concise Voids and Sediments was in its closing week). The workshops looked to nuanced exchanges, generating a body of knowledge developed from the artworks present in the exhibition at SixtyEight. Maša Tomšič's talk introduced her latest doctoral research surrounding aesthetics, science and technology. It was immediately be followed by a presentation on the outcomes of the workshop between Maša Tomšič and Marianne Skaarup Jakobsen.
---
Durational art pratices and the challenges of artist residencies
Maj Hasager
30 March 2019
SixtyEight Art Institute welcomed the Copenhagen-based Danish artist and Programme Director of Critical & Pedagogical Studies at Malmö Art Academy, Maj Hasager to our speakers program. She spoke about her thoughts on artistic practices in the context of artist residencies – somewhat a peak into the politics of creative residencies – and informed with fresh notes from her concluding six-month artistic residency at 18th Street Arts Center located in Santa Monica, California.
---
On Capacete and the Research-based Residency
Camilla Rocha Campos in conversation with Joen Vedel
21 February 2019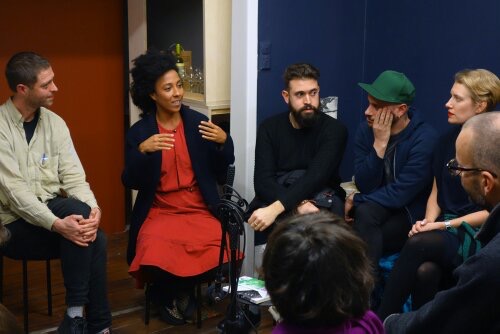 Joen Vedel and Camilla Rocha Campos
SixtyEight Art Institute welcomed the Brazilian artist, teacher, activist, and artistic director of the Capacete Residency Program in Rio de Janeiro, Camilla Rocha Campos. Artistic research and residencies allow for new combinations of creativity and time, so their format and programs are of vital importance to emerging research-based art practices. For the last 20 years, Capacete has been providing long-term residencies that allow time for new experience, engagement and immersion to artists. As artistic director of the Capacete Residency Program, Camilla Rocha Campos introduced the ideas behind the residency. In conversation with artist and former resident Joen Vedel she discussed how artists can use a more research based residency like Capacete to develop their practices.
---
_Learning from ANA
by The Winter Office #1 and #2
17 January 2019
Two podcasts conducted by Lise Grüner Bertelsen for The Winter Office. Podcasts in Danish.
SixtyEight Art Institute inviterede The Winter Office til at organisere en research-udstilling der havde til formål at analysere vilkårene og fremtiden for kunstnerdrevne udstillingssteder i København.
The Winter Office er en kunstnergruppe og arbejdsnetværk bestående af kunstnere, kuratorer, arkitekter og designere.
Som en del af The Winter Office research blev der torsdag d. 17 januar holdt et møde med Charlotte Præstegaard Schwartz og Kirsten Dufour fra Astrid Noacks Atelier, Rie Hovmann Rasmussen og Louise Lassen Iversen fra udstillingsstedet Meter og Louise Steiwer fra udstillingsstedet OK Corral.
Torsdag d. 24 januar blev der holdt møde med Kirsten Dufour, Finn Thybo Andersen, og Victor Valqui Vidal fra Astrid Noacks Atelier, og Erik Duckert fra BETON art space.
Lyt til de to podcasts på Soundcloud
---
The Stolen Hour, talk
Helena Fernández-Cavada and María Berríos in conversation
22 November 2018
Artist Helena Fernández-Cavada and sociologist and independent curator María Berríos conducting a correspondence for several months on the themes of the exhibition The Stolen Hour, which they have collected in an artist book self-published by Fernández-Cavada.
The correspondence and related visual material were presented in a limited edition artist book publication. The evening's talk featured a reading followed by conversation about the possibility of Spain having a new time zone - one of reclamation after the political and emotional reality of time lost under the Franco dictatorship, one where the current relativity of precarious time in democracy is re-imagined. The discussion addressed questions such as how our private lives are affected by political systems of the past and the present, and how we can escape the fascist structures which are emerging — given that within democracy and its institutions a patriarchal relationship between the state and its citizens is still present.
The conversation between Berríos and Fernández-Cavada may be read as part of an expanded book or meeting place, which overflowed from the page into the exhibition's mural paintings, to include the viewer as a reader and interpreter of a mutual process of exchange. This in order to seek the goals of dialogue and participation, intended to subvert the rigid patriarchal and hierarchical structures in our societies. To this end, the discussion sought to invite the audience into the sharing of ideas touched on by Fernández-Cavada and Berríos in their letters to one another.
Documentation soon...
---
Cyborgic Integrations: Bodies/Machines, Space/Movement
Jonathan Maskit in conversation with Rebekka Elisabeth Anker-Møller
16 June 2018
Philosopher, Jonathan Maskit spoke about his research, which is currently building on ideas behind mobility, technology, urbanism, and experience. He spoke about body-machine integration and its impending impact on space and movement.
While we often think that we are simply users of various technologies who remain unaffected by them, Maskit will discuss how the body-machine interface produces (already) different sorts of cyborgs, with a particular focus on the impact of two biomechanical machines, what he terms cy(cle)borgs and autoborgs. In analog terms, both the body and the machine, of course, contribute to this hybrid being, but the ongoing singularization of these two – through biotechnology – means that differences in either body or machine can change how we conceptualize the utility and framework of these cyborgic beings; which Maskit points out that 'we are already' becoming 'to a far greater degree than we realize'.
In general, however, these two different cyborgs have radically different capacities and vulnerabilities and don't generally interact easily with one another. Since these interactions, as well as those with other beings (pedestrians, animals, etc.) take place in space, the different ways in which space can be organized, can lead to either heightened or eased tensions between these two very different types of cyborg beings. The implications for art and design are not exactly clear. Nor to the understanding for how our future mobility will be challenged to also adapt and/or host our future bodies.
The talk was followed by a conversation between the independent curator Rebekka Elisabeth Anker-Møller and the philosopher Jonathan Maskit, discussing Anker-Møller's curatorial project at SixtyEight, Synthetic Seduction and looking at the affect technology and machine learning of human behavior are having on aspects of human activity, including art.
Documentation coming in the near future...
---
Trans* – Histories, Bodies and the Unbuilding of Worlds
Jack Halberstam in conversation with Hugo Hopping
2 June 2018
Professor, Author and Theorist Jack Halberstam spoke about his leading practice and research, which is currently reshaping ideas behind the epistemologies of the self and body (through and beyond) Gender Studies.
During the talk Halberstam introduced three examples of Trans* unbuilding drawn from art, architecture and queer history, to open a conversation around unmaking. Noting that while transgender has mostly been discussed in the last decade in terms of making bodies and selves, the work of unmaking performed by the appellation of Trans* points to new directions. With this shift in focus, the 'wrong body', an appellation used mostly for people who have felt themselves to be out of place, out of time, comes now (not to claim right) but to dismantle the system that metes out rightness and wrongness.
The talk was followed by a conversation between artist Hugo Hopping and Jack Halberstam on the role of non-ideals as methods for sustaining the intellectual and physical work of unmaking and other questions taken from the audience.
Documentation coming soon...
---
Liv Schulman at Alt_Cph 18
26 and 27 May 2018
SixtyEight Art Institute was very pleased to announce the release of our latest book, Infinite Bet by Liv Schulman, published by our own editorial group Really Simple Syndication Press. This was accompanied at Alt_Cph 18: Over-Existing by Liv Schulman giving the lecture performance Formal Economy, which built on themes she addresses in both The Empathy (her contribution to the Cut the Gap seminar at SMK the National Gallery of Denmark in November 2017) and in the newly published Infinite Bet.
An extract from the performance:
---
From 'No Movie' to 'Fake Buzzers' and The Sixth Expanse
Harry Gamboa Jr. in conversation with Hugo Hopping
22 March 2018
Los Angeles artist and firebrand Harry Gamboa Jr. spoke about his artistic research and practice in creating visual and performance works which – and often through photography – reflect the borderline between fact and fiction. Perhaps, today, even more relevant as the various digital ecosystems that are polluted by fake news are making it possible for small or powerful actors to discredit critical plural voices. In this sense, the talk was about the thinking value of fiction to truth and how artists are collectively imagining and advancing the reset or expansion of the line between fact and fiction.
In conversation with artist Hugo Hopping, Harry Gamboa Jr. spoke on the politics of truth-telling in the construction of the art object that is fictive. Speaking on how facts seem to collide with or express our cognitive understanding of the realities we acknowledge, and how contemporary narrative forms that either segregate or melt truth with manufactured fiction, fakeness, or 'alternative facts' are resembling more and more the conceptual and artistic strategies developed by artists. Like the artistic body of work of ASCO (which Gamboa Jr. co-founded in the early 1970's) that gave us the seminal NO MOVIE artworks, in which (and years before Cindy Sherman began developing herself as the star of her nonexistent 'Untitled Film Stills'), ASCO members photographed themselves into fictive cinematic roles to produce memorable and lavish scenes of a 'No Movie': Movies that were never made, which both critiqued the inner-workings and failure of American image-making to include critical pluralities on celluloid. Whether these were Mexican-American or Chicano, Black or other communities, the rendered space of American film productions – at the time – collectively sided to treat these as invisible. Today, internet memes and other forms of compressed communication open up the urgency to rethink the relevance and history of such artistic strategies, not only regarding the osmosis governing the border between fact and fiction (because everything seems allegedly visible now), but also about the nature of art embedded in digital ecosystems that are overloaded with bots, fake accounts and lies, making it difficult to imagine art's progressive role when an artificial intelligence, like a fake 'buzzer' account on Twitter, with thousands of followers and an agenda, could have such an influence.
The evening concluded with a short talk about Harry Gamboa Jr's new book The Sixth Expanse which is an artistic document masking as a Fotonovela, pondering the destruction of the urban culture of Los Angeles in this period of rapid gentrification. The book plays with the idea that gentrification maybe a violent fact or dystopic fiction.
Documentation in the near future...
---
The Role Images Play in Visualising Global Economic Systems
Ryan S Jeffery in conversation with Hugo Hopping
14 February 2018
Ryan S Jeffery, an artist and filmmaker based in Los Angeles, discussed his artistic research and practice that considers how political, cultural and economic structures are imprinted within the built environment, and their subsequent reproduction and circulation through images and media.
The talk also covered a new project Ryan S Jeffery is currently developing under the working title, The Unsatisfying Metaphor: Images of a World Economy, based in part on the research of historian Quinn Slobodian and his recently published book, Globalists: The End of Empire and the Birth of Neoliberalism published by Harvard University Press. This project begins with the story of the World Trade Organization in Geneva, housed in the former headquarters of the International Labour Organization and home to a collection of artwork and murals depicting various themes of labour which were covered or removed after the building's transition to the GATT in the 70s and 80s, and ultimately the World Trade Organization in 1995. The film tells the story of this artwork's return and restoration in 2008 by a group of WTO employees, in parallel to the broader story of Switzerland and Geneva as the site for 20th institutions tasked with imagining a stable interdependent global economy.
The evening concluded with a short exploration addressing the methodologies employed in both these filmic undertakings: how the two projects connect and grew from one another and the broader challenges posed to images and image-makers towards understanding a world experiencing, what sociologist Joshua Scannell has claimed as the so-called "datalogical turn".
Documentation coming soon...
---
Drag Kings, Phantoms, Mirrors, Hands (one hundred years of dis/appearances)
Conversation and screening programme: Saturday, 25 November 2017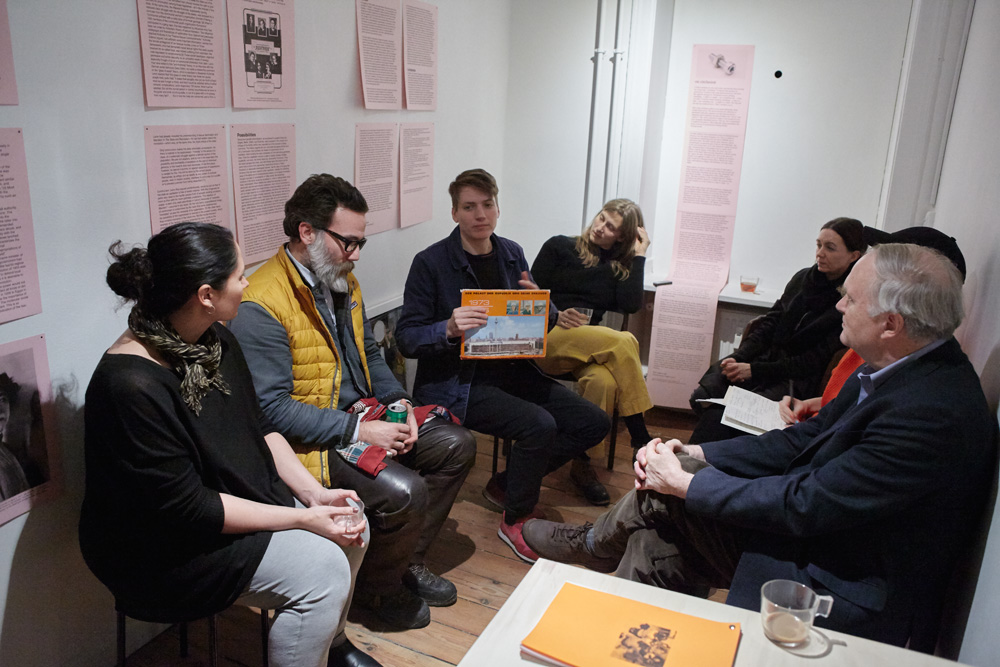 Michala Paludan, Cyklus
Collaborative presentation of excerpts from the installation
Kerstin Honeit, Suza Husse and Michala Paludan, et.al.
In conversation following screening of Kader Attia, Reflecting Memory and Kerstin Honeit, my castle your castle.
Coming very soon...
---
Curatorial Research Presentations
Agata Chinowska (Poland), Inês Geraldes Cardoso (Brazil), Helena Santos Elorriaga (Spain)
14 October, 2017
SixtyEight Art Institute introduced Agata Chinowska, Inês Geraldes Cardoso, and Helena Santos Elorriaga to the city of Copenhagen. They presented their curatorial research, which was followed by a moderated conversation. The evening was a unique opportunity to meet the curators and listen to how they work with research and exhibition-making strategies in different international settings, such as Poland, Spain and Brazil.
CPR is an international research program that creates networks of emerging curators, in order to connect with art scenes around the globe. SixtyEight Art Institute served as a local host for the CPR program, and all 8 participants of the THE BALTIC SEA program were present during this 'Talks' series evening.
Please read more about CPR: www.curatorialprogram.org/curatorsinresidence
---
Multi-colonial Zones: Rodolfo Andaur in discussion with Hugo Hopping
24 June 2017
Rodolfo Andaur, curator, writer, professor in curatorial studies, and current guest-curator at SixtyEight Art Institute discusses his curatorial research dealing with the multi-colonial zones of Latin America. Andaur thinks of these as diverse 'fields of inquiry' where urban landscapes, cultures, ethnicities, and artistic practices have a collected and complex relationship with the colonial past. Rather than forcing idealistic simplifications of cultural identity, Andaur's research looks into the heterogeneous texture of multiple regions that contest this colonial past, and which are asking for new emotional, conceptual, and artistic relations stemming from historical and contemporary forms of survival and resistance.
Throughout his curatorial research process, Andaur has connected with visual artists, researchers, and curators in order to gain a better understanding of local contemporary art practices and their importance within the cultural ecosystem of Latin America. To this end, the talk discusses Andaur's exhibition projects, artists he is working with, and elements of the exhibition Money Laundering which he curated for SixtyEight Art Institute.
---
Talk with writer and curator Santiago García Navarro
7 June 2017
This talk was organized in connection with SixtyEight Art Institute's exhibition I am also stepping on wet sand, realized by Carla Zaccagnini through a close collaboration with Santiago García Navarro. At this evening event, García Navarro introduced his research on the modern construction of the beach, both as a leisure phenomenon and contradiction.
Santiago García Navarro has been exploring the city of Mar del Plata for a number of years, and spoke about the kind of images and stories that have called his attention and led to this research project on destination culture. This research examines the ways in which artists have explored social imaginaries by slightly changing the conventional formats of touristic photography (postcards, advertising, etc.), thereby making visible the effects of consumption and entertainment development in coastal areas. García Navarro looks at the ways in which ideas of 'tropical paradises' are being reimagined and created in non-tropical regions as forms of nostalgic longing, looking for the 'non-existent golden age', and which aim to render elegantly as past nature, but in fact end up looking rather kitsch or stale. In his own words:
'A beach resort is a world of clichés. Not only if it is famous. Those that are not, imitate the famous ones. What they have in common is that they're all structured according to more or less given principles. Which means that all of them are, in essence, the same place. Even if, at first glance, they may look rather different from one another. Some of them remain the same for ages. Some change as fast as the fastest-growing cities in the world. Some are small and quiet. Some are gigantic and buzzing. Some are well-known worldwide. Some are well-known only within a country or area.'
The talk delved further into the artist and writer's collaboration around the experience of the Beach, and looked into the exhibit's methodology, sources or histories, from which García Navarro put together his side of this co-production.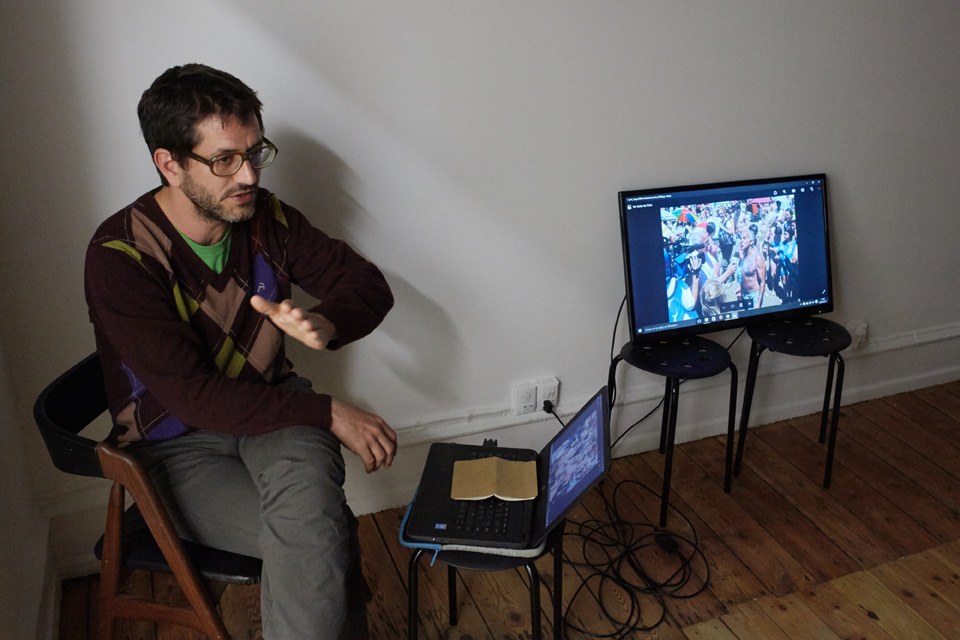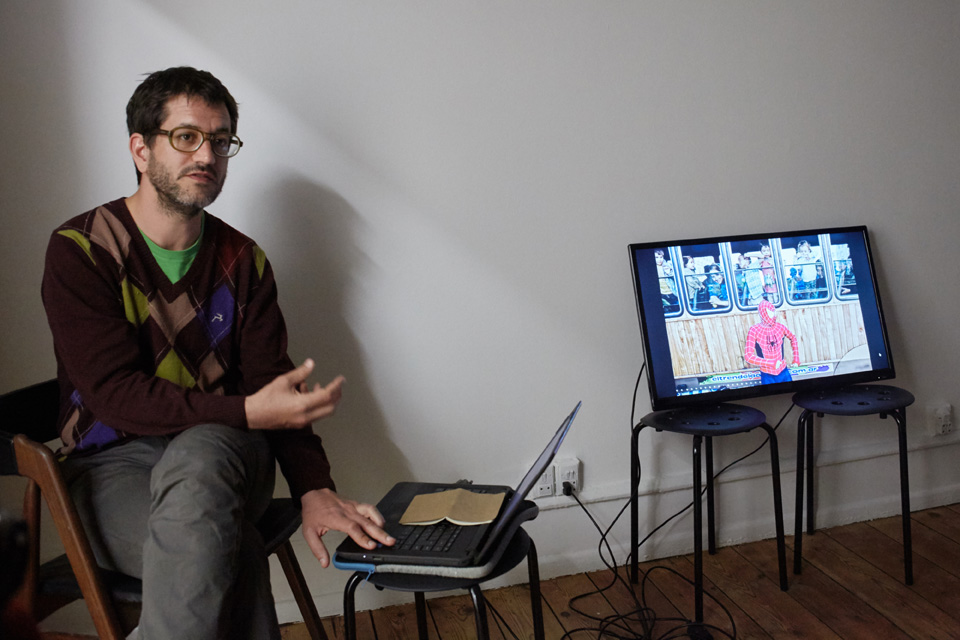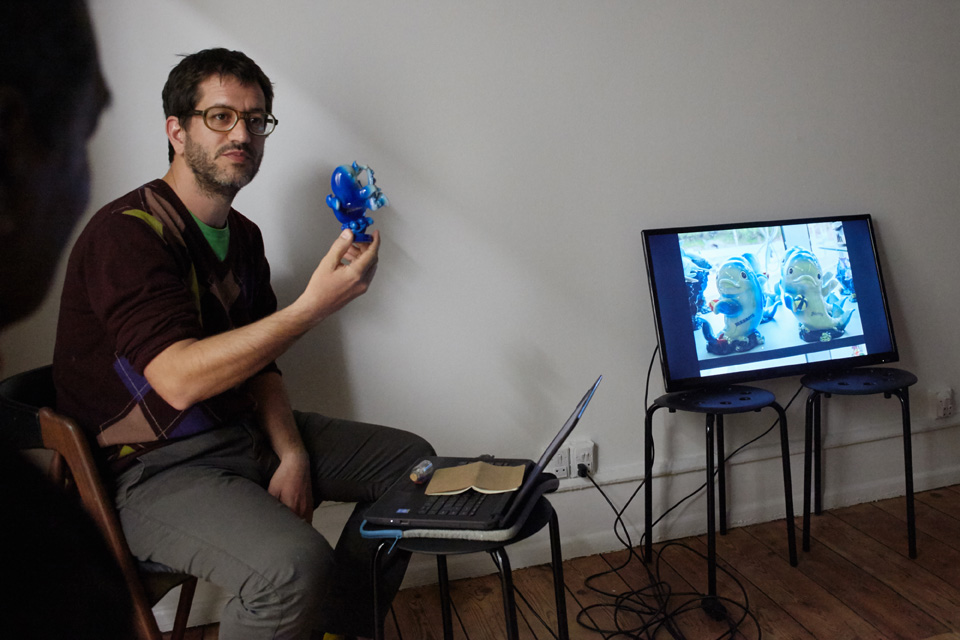 Santiago García Navarro during his talk at SixtyEight Art Institute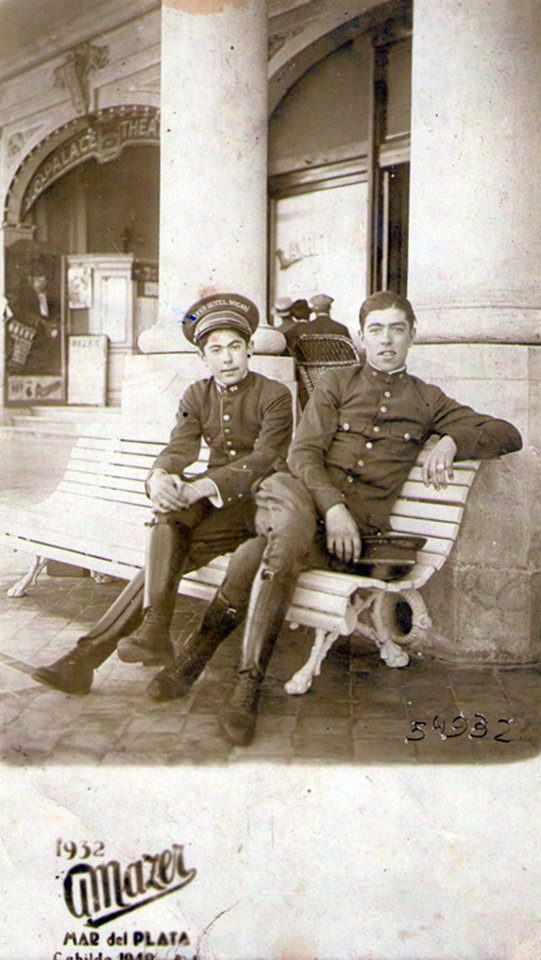 Photo of Bathers in Mar del Plata, Argentina
---
Acid Money: Goldin+Senneby with magician Malin Nilsson
21 April 2017
A magic demonstration with Malin Nilsson exploring the history of 'conspiracy magic'. A practice in which magicians make use of their techniques and methods for political purposes, beyond the stage.
The audience was invited to join a trip from cold war brainwashing techniques to contemporary finance magic. The evening offered a special opportunity to take some magic home with you.
Held in relation to SixtyEight Art Institute's exhibition Exchanging Money for Working Space or Money Equals Working Space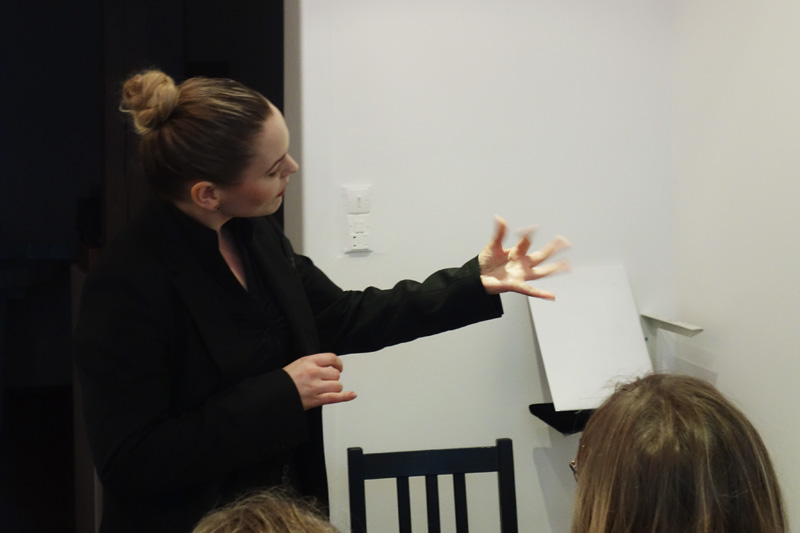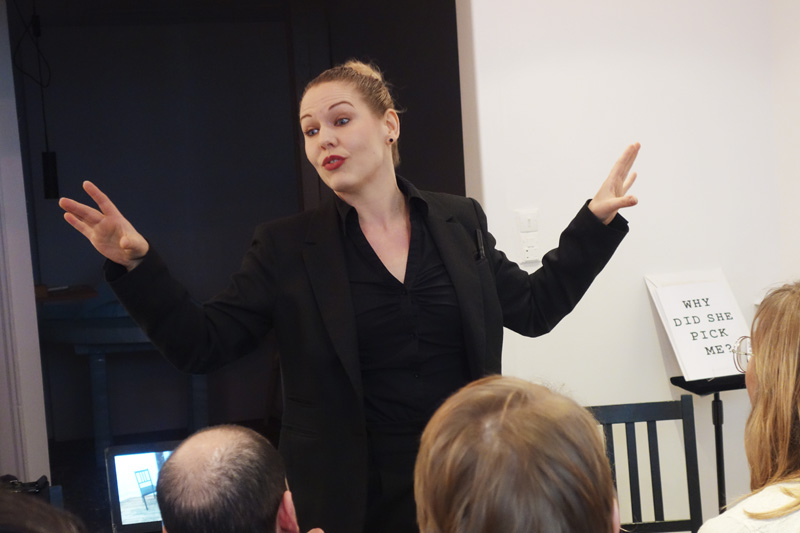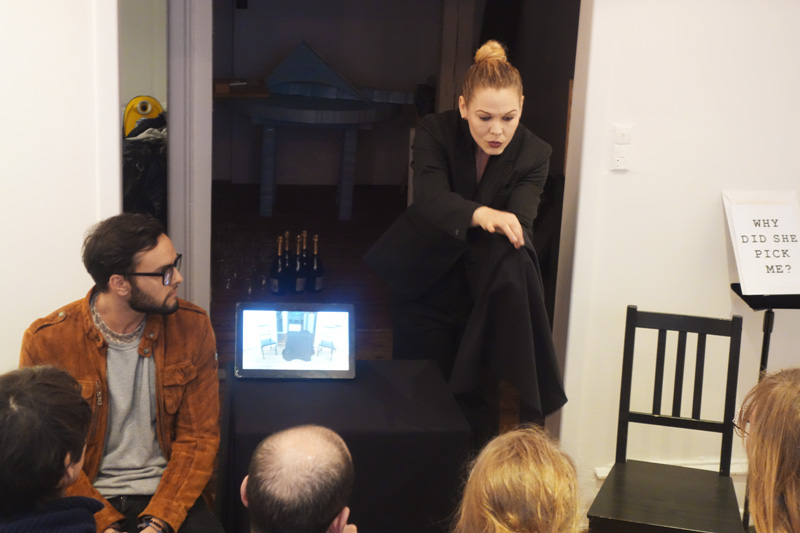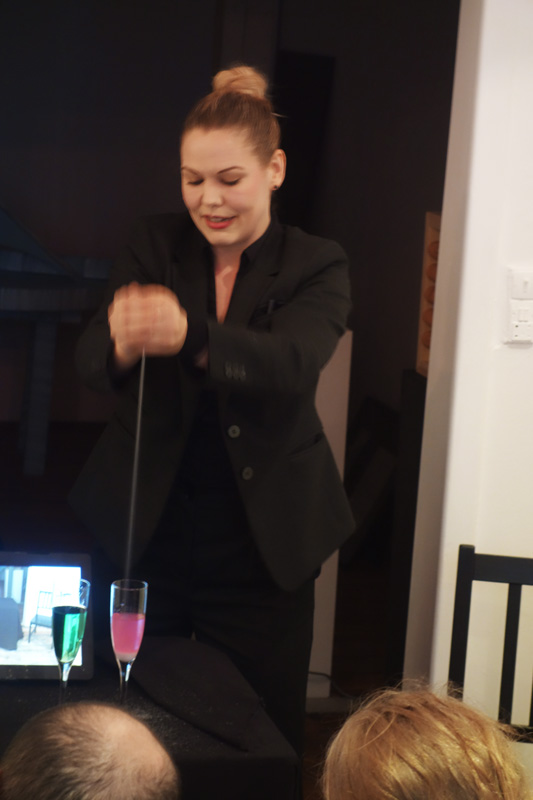 ---
Joshua Clover in conversation about his book Riot. Strike. Riot
6 April 2017
Joshua Clover, poet and professor of English literature at University of California Davis, discusses with Christopher Sand-Iversen his recent book Riot. Strike. Riot, which seeks to provide us with a theory of riot and strike within a new history of capitalism. Tracing the history of the riot from the village marketplace to the global city and the freeway via the strikes of the industrial era, he finds a transformation of capital from circulation-based to production-based and back again, with a difference. Focusing on the United States and Britain, which have been the loci of much popular revolt in the industrialized era, Riot. Strike. Riot addresses the re-emergence of riot in the twentieth century and up to the present, investigating the ways in which it is similar to price-setting in the seventeenth century marketplace, while also uncovering the characteristics which are unique to its most recent iterations.
The talk addresses several of the book's most crucial ideas, such as the respective links between strike and production and riot and circulation, capital's creation of a 'surplus population' of workers whom it does not require for work yet are in need of employment, the racialization of people surplus to capitalism's requirements, and as a corollary the recomposition of class distinctions. Why is that the strike is no longer an effective form of protest, and what does a rioting crowd signal by occupying places of circulation?
---
Market for Immaterial Value, First Shareholder's Meeting
11 March 2017
With Valentina Karga, Steyn Bergs, Charlotte Præstegaard Schwartz, Iben Bach Elmstrøm, Anne Julie Arnfred, Søren Thilo Funder, Mai Hanquist Takawira, and Christopher Sand-Iversen.
In collaboration with 'consultant' Steyn Bergs, Market for Immaterial Value hosted its first shareholder's meeting at SixtyEight Art Institute in Copenhagen, in connection with the exhibition Exchanging Money for Working Space or Money Equals Working Space, where it was among the exhibited works.
---
Rough Trade Panel Discussion
4 February 2017
Talk with Imani Tafari-Ama, curator at the Flensburger Schifffahrtsmuseum; Astrid Nonbo Andersen, Researcher at DIIS Danish Institute of International Studies; Jeannette Ehlers, artist; and Tina Helen, artist. Moderated by the curator of the Rough Trade exhibition, Earl Miller.
The Rough Trade panel discussion centers on the discursive conditions framing trans/cross-cultural art. It stresses the current global-political climate of migration and the growing responses of intolerance towards it. Informing these responses are the historic backdrops of lingering colonial histories, like those of Canada and Denmark that perpetuate hegemonies of race, culture, and labour oppression.
Panelists will be addressing how such colonial histories are embodied or rising in trans/cross-cultural art. With special focus, the panel will reflect on questions proposed by the exhibition Rough Trade at SixtyEight Art Institute, such as its thematic use of the switching between a range of dominant normative roles and marginalized ones, maybe suggesting new alternatives to the current power structures. The panel will also expand its questions into how activism and academic discourse can intersect with art which engages with colonialism, racism, and migration politics. Operating in this wider context, the panel comments on the recent Right-wing turn in Western politics, and the refugee crisis with its metastatic anti-immigrant sentiment. It asks how art, activism, and academia can maintain a decolonizing practice in such times, especially since these fields face what seems an endless barrage of targeted accusations, such as "political correctness" and other pejoratives.
---
Post-migrant Perspectives on Contemporary Art and Culture
20 August 2016
Moritz Schramm, Associate Professor and Researcher at the University of Southern Denmark, Department for the Study of Culture.
In connection with the exhibition Your Danish is Good
Post-migration is referred to as a shift in which cultural producers are looking beyond established and two-dimensional definitions of migrant identity politics. These are usually driven by binary positions, such as native versus foreign, or 'us' versus 'them', or between self and the other. The post-migrant spectrum proposes that the diversity of backgrounds, lifestyles, and ethnicities is a norm, rather than an exception. A condition where artists, seeking creative transformation and individual recognition, could explore possible third spaces for fomenting new perspectives. More importantly, where their backgrounds engage and refine beyond the political and cultural ties given by their communities of origin and their host countries.
Post-migration looks to a range of questions regarding the state of nativist politics and culture, with the potential to revise art histories linking modernism and migration i.e. Kandinsky (Russian, later French) or Marcel Duchamp (French, became a U.S. citizen in 1955), to opening new alternative readings for the contributions and positions taken today by contemporary post-migrant art production, in addition to gaining agency over and diverting prevalent processes of Othering in the future.
The talk will also serve as an introduction to the research Moritz Schramm is currently leading through the collaborative research program 'Art, Culture and Politics in the 'Postmigrant Condition'', conducted from the University of Southern Denmark, and which is funded by the Danish Council for Independent Research.
---
Mexico City´s Urbanitas: Spatial Memory and Emotional Communities
21 May 2016
Dr. Johanna Lozoya, Writer, Cultural Historian, Architect and Coordinator of the Emotion Studies Group - Mexico (GEE-MX Lab: City and Emotions) from the Architecture, Landscape, and Urbanism Research Center School of Architecture, University of Mexico (UNAM), Mexico City.
A video/sound/photography presentation that enables the audience to connect with Mexico City as a daily/weekly/monthly spatial-emotional phenomenon. Through a set of synchronized images and sound data, this city becomes a "living narration" of what this modern urban experience means to those that live in it and how humans and non-humans (architecture, urban infrastructure, technology, etc.) are inside of a network of "emotional bodies." This presentation shares with us some of the latest research from the Emotion Studies Group - Mexico.
Held in connection with the exhibition New Rocks Upon the Beach
---